Yes, a dyson stick vacuum can be effectively used on hardwood floors. A dyson stick vacuum's suction power and bristle brush are suitable for use on hardwood floors, making it an ideal cleaning tool.
Hardwood floors are a popular and timeless flooring option in many homes. They are easy to maintain, visually appealing, and add a sense of elegance to any space. However, cleaning hardwood floors can be challenging since using the wrong cleaning tool may cause damage or scratches on the surface.
As such, many homeowners wonder if dyson stick vacuums are safe to use on hardwood floors. This article will explore if dyson stick vacuums are suitable for cleaning hardwood floors and provide tips on how to use them effectively. Whether you have a dyson v11, v10, v8, or any other stick vacuum, this article will provide all the information you need to know.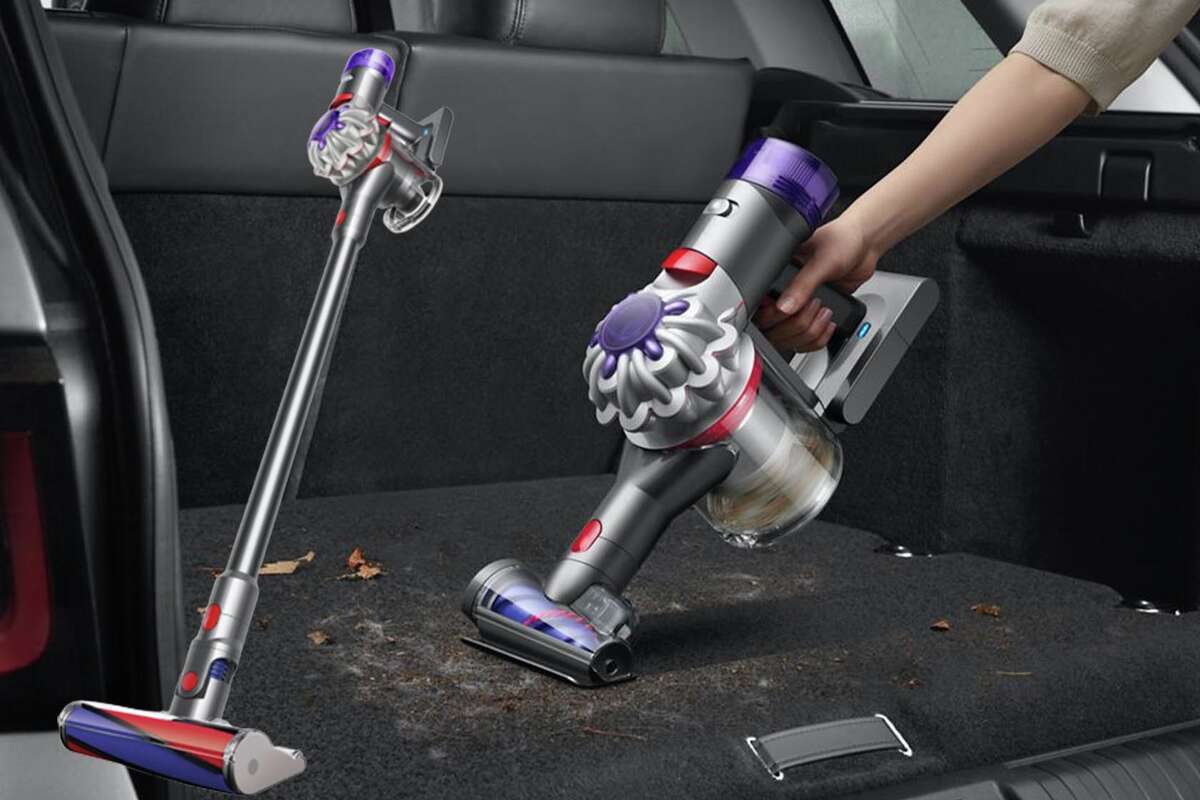 Credit: www.chron.com
Dyson Stick Vacuum Features
Dyson stick vacuums offer distinct features that cater to different household needs. For instance, some models have different detachable tools to clean tight spaces or pet hair. These vacuums also have multiple suction modes that adjust to different floor types.
Moreover, the hepa filtering system removes allergens and pollutants. When it comes to hardwood floors, the soft bristles prevent scratches, while the high torque cleaner head removes dirt embedded in carpet fibres. Understanding these features can help homeowners make an informed decision when purchasing a dyson stick vacuum.
Whether you need a tool for quick cleanups or deep- cleaning sessions, dyson stick vacuums have you covered.
Types Of Dyson Stick Vacuums
Dyson stick vacuums are great tools for cleaning hardwood floors. There are several types to choose from: the v7, v8, v10, and v11. The v7 is a more budget-friendly option, while the v11 is the most powerful. Each has its own pros and cons.
For example, the v7 has a shorter battery life than the others. The v8 has a longer battery life, but can be less effective for picking up larger debris. The v11 comes with an lcd screen to help you monitor battery life.
Ultimately, it's important to consider your budget and cleaning needs when choosing a dyson stick vacuum for your home.
Benefits Of Dyson Stick Vacuums On Hardwood Floors
Dyson stick vacuums are a great choice for cleaning hardwood floors. These vacuums are specially designed with a powerful motor that can easily pull out all the dirt and debris from hardwood floor surfaces. The unique brush head of the vacuum includes stiff nylon bristles that can quickly and effectively clean every nook and cranny of your hardwood floor without leaving any scratches.
In contrast, traditional vacuums can often leave scratches on your hardwood floors while they are being cleaned. Furthermore, dyson stick vacuums are lightweight, easy to maneuver, and can easily reach tight spaces under furniture to ensure that your entire hardwood floor is spotless.
Overall, if you want a perfect cleaning experience for your hardwood floors, dyson stick vacuums are the way to go.
Preparing The Hardwood Floors
Properly preparing your hardwood floor before using a dyson stick vacuum is important. The first step is to clear the area of any debris or large particles. You can then use a broom or dry mop to remove any loose dust or hair.
Follow up by sweeping the floor using a soft-bristled attachment that won't cause any damage. Ensure that the hardwood floor is flat and even to prevent any scratching or scuffing. Lastly, you can set the correct height on the dyson stick vacuum to ensure it is not too low or too high when in use.
By following these simple steps, you will be able to clean hardwood floors effectively without causing any damage.
Using The Dyson Stick Vacuum
Dyson stick vacuums are a popular choice for hardwood floors due to their portability and powerful suction. To use one effectively, start by removing any large debris from the floor. Then, switch the vacuum to the appropriate setting for hardwood floors, usually labeled as the hard floor setting.
You may also like this article here: Top 10 Must-Have Features in a Vacuum for Hardwood Floors
Move the vacuum in a back-and-forth motion, being careful not to scratch the surface. Use additional attachments, such as the crevice tool, to reach tight spaces and corners. For best results, ensure that the vacuum's filter is clean and replace it regularly.
The dyson stick vacuum is designed to make cleaning hardwood floors easier, and with these simple tips and tricks, you can achieve the best results.
Cleaning The Filter
When it comes to cleaning the filter of your dyson stick vacuum on a regular basis, it is crucial to ensure its maximum performance. The filter plays an important role in capturing microscopic dust and allergens, maintaining clean indoor air quality.
Therefore, ignoring its maintenance can result in clogging, reducing suction power and airflow in the machine. To clean your filter, remove it from the vacuum, tap it on a trashcan to remove large dirt particles, and rinse it gently under running water.
Ensure it is completely dry before reinstalling it into the vacuum. Avoid using detergent, hot water, or drying it in a machine or with a hairdryer, as it may damage the filter's fiber. Remember that cleaning the filter regularly is essential to prolong its lifespan, improve suction performance, and maintain the dyson experience.
Emptying The Dustbin
Emptying the dustbin of your dyson stick vacuum is a vital task to ensure it performs at its best. Failing to do so can result in reduced suction power, which can diminish your vacuum's efficiency in cleaning hardwood floors. To empty the dustbin, first, detach it from the vacuum and dispose of the contents in a waste bin.
Using a damp cloth, wipe down the bin's interior, ensuring it is clean, dry, and free of debris. Remember to replace the dustbin securely and ensure all attachments are correctly assembled. By following these simple steps, you can keep your dyson vacuum cleaner running efficiently.
Frequently Asked Questions Of Can You Use A Dyson Stick Vacuum On Hardwood Floors?
Can Dyson Stick Vacuum Be Used On Hardwood Floors?
Yes, dyson stick vacuum can be used on hardwood floors. In fact, it works great on hardwood floors, tile floors, and other hard surfaces.
Do Dyson Stick Vacuums Scratch Hardwood Floors?
No, they do not scratch or damage hardwood floors if properly used. The vacuum's motorized brush head is designed to prevent damages on hardwood floors.
Can Dyson Stick Vacuum Clean Pet Hair On Hardwood Floors?
Yes, dyson stick vacuum is highly effective in cleaning pet hair on hardwood floors. Its strong suction power and motorized brush head pick up pet hair with ease.
How Long Does Dyson Stick Vacuum Battery Last On Hardwood Floors?
The battery run time of the dyson stick vacuum varies based on the type of model you have. However, on average, the battery can last up to 60 minutes on hardwood floors.
Can Dyson Stick Vacuum Replace Traditional Vacuums?
Yes, dyson stick vacuum is a great alternative to traditional corded vacuums. It is more versatile, lightweight, portable, and effective for everyday cleaning.
Conclusion
After taking a closer look, we can confirm that dyson stick vacuums are an excellent choice for cleaning hardwood floors. They offer the convenience of a cord-free machine with the power to suck up even the smallest particles and debris.
With its advanced filtration system, you can be sure you're not spreading dust and allergens around your home. And the vacuum's sleek design allows it to easily maneuver around furniture and hard-to-reach spaces. However, some precautions need to be taken when cleaning sensitive surfaces like hardwood floors.
The soft roller cleaner head is an essential accessory that ensures scratch-free cleaning, and it is recommended to avoid using the direct-drive cleaner head on hardwood floors. Overall, we believe that the dyson stick vacuum is a versatile and effective cleaning tool that can make your life much easier.